Learn To Paramotor
Our Learn to Paramotor Course will take you from complete novice to confident SAFA PPG pilot in just 14 days.
Led by world-class paramotoring champion, David Wainwright, our extensive course is considered one of the best in Australia, taking you well beyond the minimum requirements to become a competent paramotor pilot.
Foot launch and wheelbase course options are available.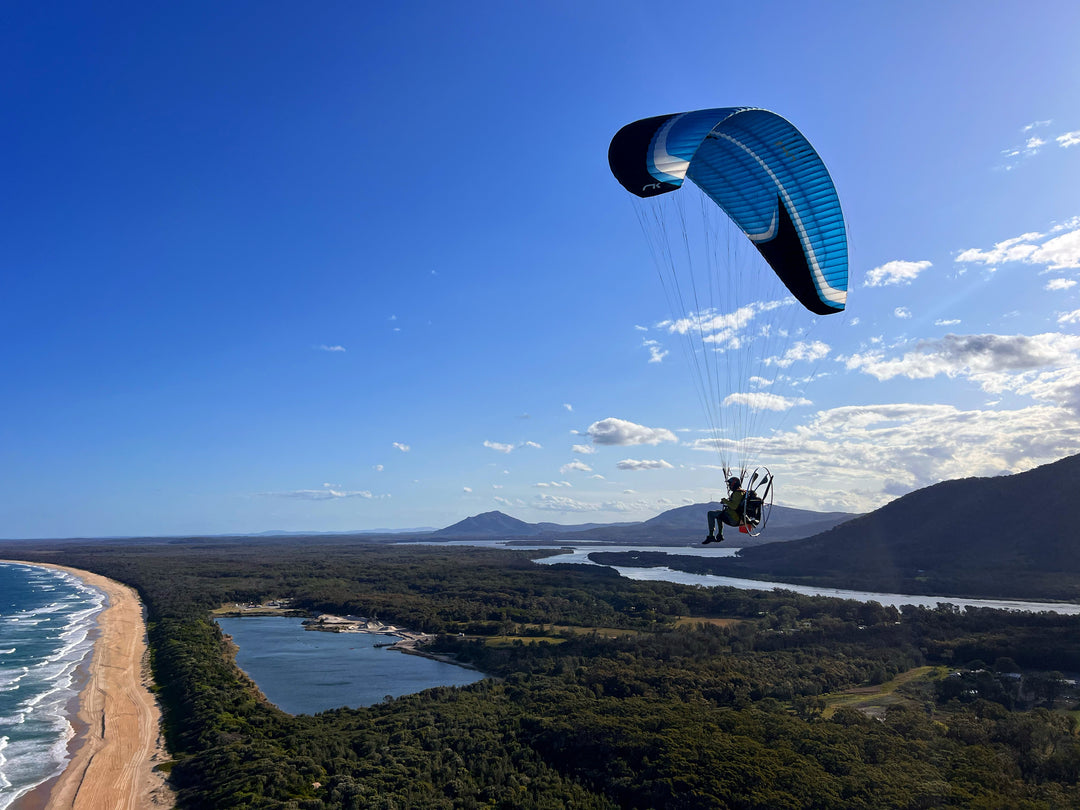 STEP 1
Learn To Paraglide
GROUND HANDLING: We put great emphasis on developing confident 'kiting' so our pilots learn how to respond to their glider and understand it's reaction.
LAUNCHING TECHNIQUES: Forward launch techniques for low-wind conditions and
reverse launch for higher wind conditions.
LAUNCH & LANDING PRACTICE: Build confidence to safely transition to flight and learn to assess ground conditions and safe landing options.
STEP 2
Powering Up
EQUIPMENT REVIEW & PRE-FLIGHT CHECKS: Learn about the equipment and how it works, plus learn how to conduct a paramotor and gear pre-flight safety check.
PARAMOTOR SIMULATOR TRAINING: Practice kiting your glider with the additional weight of the motor and get acquainted with the throttle. Getting a feel for the engine and what it's like to apply power is a key technique for you to master.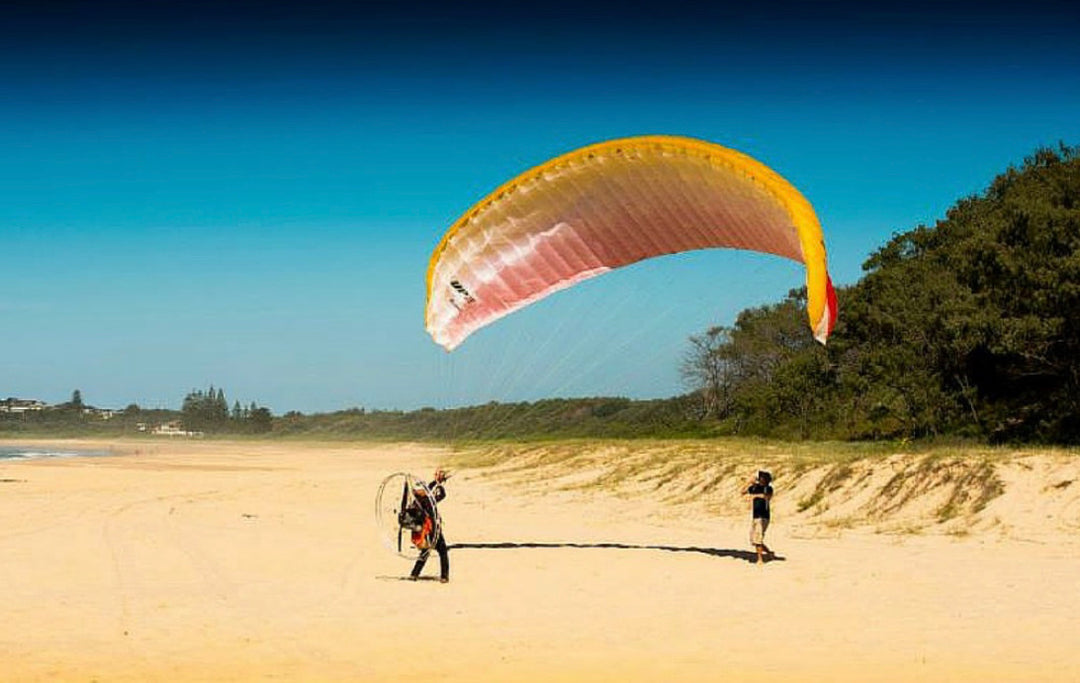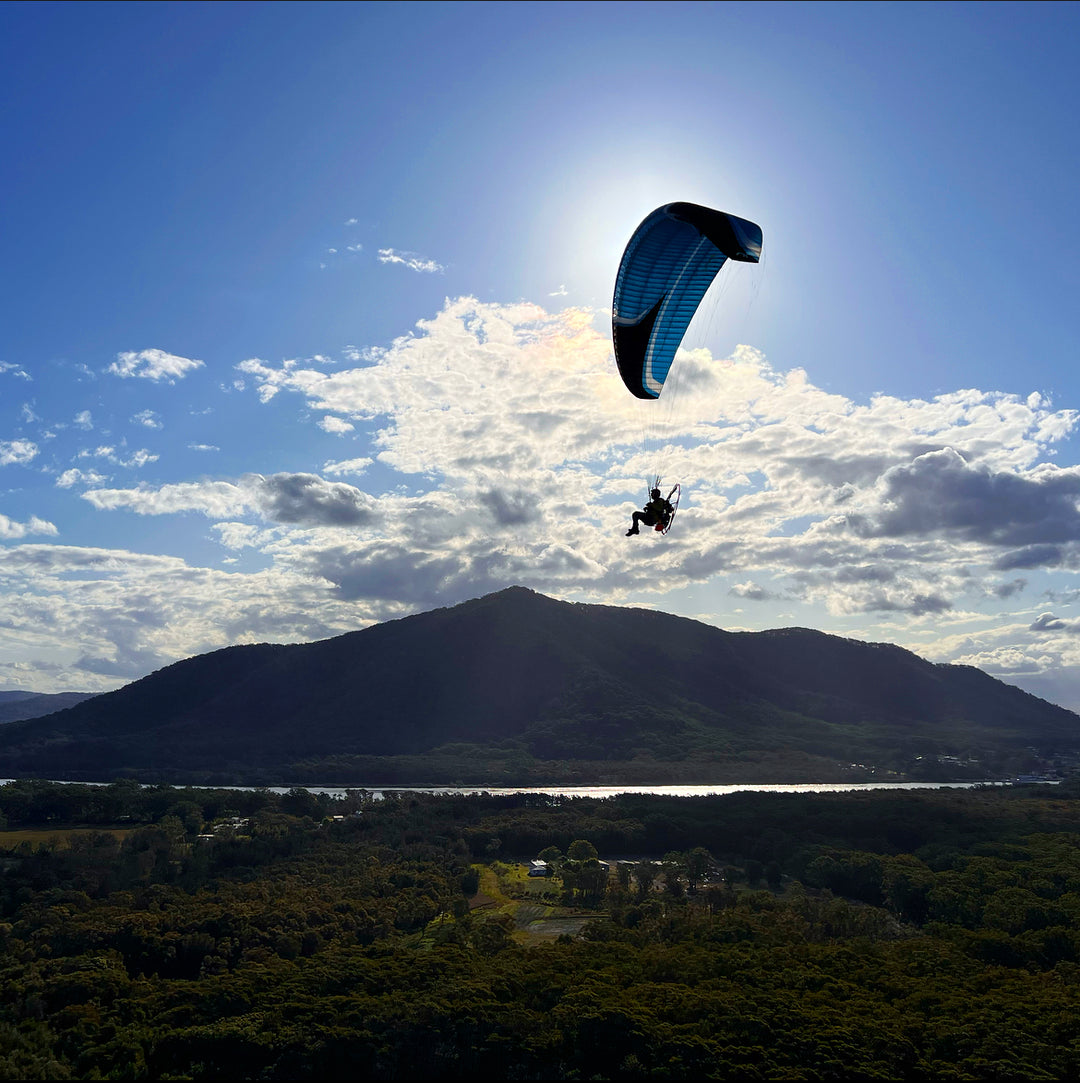 STEP 3
Taking To The Sky
It's what you've been waiting for! You'll perform launch sequences, now simply adding power. You'll practice launching, landing, and turns through radio assisted instructed flights. Lots of flights, 'touch and go's' and some absolutely stunning cross-country flying are ahead of you.
STEP 4
Theory & Assessment
When the conditions aren't right for flying, we use this 'down time' for theory classes.
The SAFA Training Syllabus is thorough, and so are our theory classes. Topics include: airspace rules and regulations, drag and thrust, torque effects, principals of flight, meteorology, emergency procedures and navigation.
Assessment of theory is via multiple choice exams.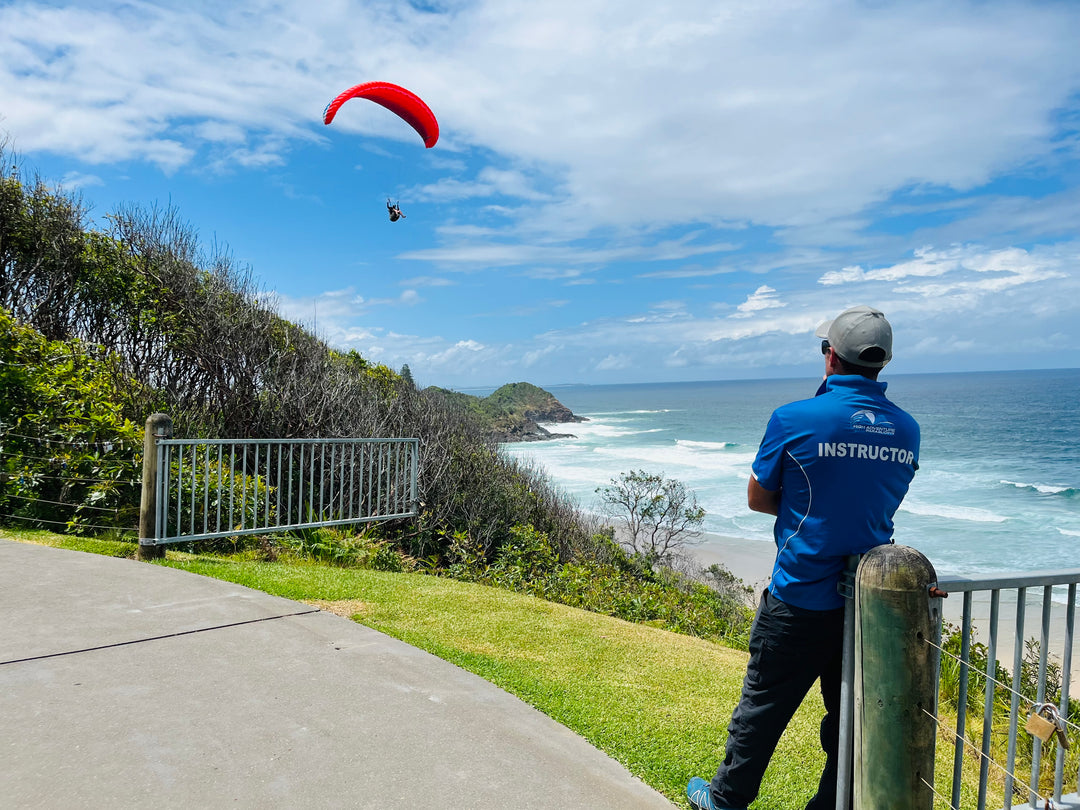 What You'll Learn:
Pre-flight checks * Flight preparation * Airspace regulations * Flying with other aircraft * Inflation/Taxi/Launch sequence * Launch and landing techniques * Launch and landing in various wind strength and conditions * Landing accuracy * Cross wind and downwind landings * Flight Path * Flight Skills * Turns * Safe use of Trim Tabs/Speed System * Inflation, Taxiing and Deflation utilising the motor * Fuel management * Motor Safety * Weather assessment * ... and more!
Requirements for PPG Licence
TO SUCCESSFULLY ACHIEVE THE SAFA PPG (PARAMOTOR) LICENCE, YOU WILL NEED TO ACHIEVE THE FOLLOWING:
Minimum 12 flying days
Minimum 15 flights (unpowered)
Minimum 30 flights (powered)
Minimum 20hrs total flying time
2 cross-country fights of a minimum of 25km
1 cross-country flight with outlanding and relaunch
Successful and competent demonstration of all required skills and techniques in light and moderate conditions, as set out in the SAFA training manual
Successfully pass theory exam


on-site accommodation
Stay With Us
When you've finished up a great day of flying, comfort and ease is key. We offer self-contained private or shared units on-site for our students.
Powered Paragliding PPG and Paramotoring are the same thing. We like to call it Paramotoring in Australia, however, in the US and Europe, it's commonly referred to as Powered Paragliding. The sport of paramotoring was popularised in France in the late 80s.
Paramotoring has evolved from the popular sports of hang gliding and paragliding. While a paraglider is reliant upon uplift and thermals, and launching must be done from a hill or by winch tow, by adding a motor, take-off can be done in a few short steps on any suitable flat area.
Powered Paragliding Pilots (PPG) are essentially light aircraft pilots. The equipment used in PPG flying has advanced at an incredible speed since it was developed in the late 80s. As with all forms of aviation, there are risks involved. These risk should be considered very small if you operate your equipment as you have been taught and inline with the guidelines of operation under the SAFA/CASA regulations.
SAFA has spent years creating a quality control system that encompasses pilot rating systems and their thorough and in-depth progressive training syllabus for SAFA Certified Instructors and students to follow. A skilled trainer and advanced training techniques are what will keep you safe in this sport.
A paramotor is a light-aircraft frame consisting of a motor weighing between 20-30kgs, a propeller, a harness with an integrated seat, and a cage. It's then attached to the riser points of the wing.
A paramotor can be assembled and disassembled in a matter of minutes fitting into even the smallest of motor vehicles. It is this ease of transportation, size and quick setup that makes Paramotoring one of the easiest and most compact aircraft's available.
Unlike a paraglider, you can take off with a motor in both light and nil wind. The pilot walks or runs holding the brake handles or toggles to steer the wing and the throttle in one hand. The forward motion created from the motor will inflate the wing as you walk or run forward.
The throttle controls how fast you go up or down, and the brake handles to control the left-right direction. A paramotor has no clutch, only four inputs that you need to worry about. Left, right or up and down. Once the canopy takes the weight, and with a bit of throttle, the wing lifts off the ground, and you are flying!
The paramotor is used to get you off the ground and into the air, helping you maintain your altitude. At any given time, you can shut the engine off and fly the glider as you would a paraglider and safely glide back down to a safe landing option.
Motors that you will train on have both manual and electric start options. Learning how to safely stop your engine mid-flight and then restart again is an integral part of your training.
Superior designed Paramotoring Wings such as the APCO Lift EZ have an impressive Glide ratio of 8:1. This means the glider will travel 8 metres forward for every 1 metre down. Beginner Gliders such as Niviuk Link and APCO Lift EZ are designed with safety and training in mind. They stay fully pressurised and have a natural tendency in the design to fly straight. They are also considered to be forgiving on pilot input.
On average a pilot can get 45-60 minutes of flight time for 3.5 litres of fuel. A standard tank of fuel at speeds up to 60kms an hour can get you 2.5-4hrs of flying. This, of course, can be dependent on the gear you are flying, overall weight, headwind, throttle-use, the size of the engine, fuel efficiency and glide ratio.
Flying time can be extended for hours by cutting off the motor and using thermals, soaring and ridge lift to gain altitude. Switching back on as you need.
Australia has restricted airspace rulings that any PPG pilot must follow and guidelines for flying in high-density areas. Outside of controlled airspace, you are free to fly anywhere you like. Currently, Australia has a legal height limit for flying PPG which is 10,000 feet.
As Australia takes hold of this great sport, the community grows larger and larger every year and more and more 'clubs' are popping up throughout Australia. The Australian Paramotoring community is full of some very friendly, welcoming and approachable people.
Once you are off and flying there are lots of things happening in the Paramotoring community. There are Paramotoring 'Fly-Ins' for all levels of motoring pilots throughout the year – all the way up to championship level competitions and international pursuits. 
Once you have mastered the techniques, it is also possible to share the sport and your experiences by flying tandem with friends and family. Taking a passenger or "tandem" flying is possible with the correct equipment and training.
A special licence is required to be able to perform tandem paramotor flights. Check out our paramotoring tandem endorsement for more details.
From the young to the old – paramotoring is a sport that is easily picked up and you'll see yourself mastering the motor in no time.
There is no upper age limit, however, paramotoring does require a certain amount of physical activity. Anyone with a moderate level of fitness should more than able to carry out the training. Please let us know if you have any pre-existing injuries.
The current minimum age restriction set by the SAFA for paramotoring is 15 years.